NORTH AMERICAN ALFALFA IMPROVEMENT CONFERENCE
AND
TRIFOLIUM CONFERENCE
July 18-21, 2004
Quebec City,

Canada
Université Laval and the Quebec Forage Council are pleased to invite you to Quebec City, Canada, for the 39th NAAIC and the 18th Trifolium Conference (TC). A very exciting and most stimulating scientific program is planned for this conference in the "Nouvelle-France" ambiance of Quebec City. This is a unique opportunity for you to get an update on new developments in the fields of physiology, quality, breeding, pest management and genetics of alfalfa and trifolium. Learn more about agriculture in Eastern Canada and the severe winter conditions often critical to the survival of perennial crops, especially alfalfa and clovers. Come with your family, attend the meeting and visit this beautiful area.

Quebec City
A popular travel destination, Quebec City and its surrounding area welcome over 6 million tourists every year from all corners of the world. Quebec City is a magnificent tourist area. It is the only walled city in North America and it is classified as a World Heritage Site by UNESCO. Quebec City and its region offer visitors a multitude of attractions, whether your passion is history, food or outdoor activities.
For more information visit the following Web sites:
Quebec City : www.ville.quebec.qc.ca
Quebec City region : www.quebecregion.com
History and heritage information : www.quebecheritage.com
Province of Quebec: www.tourisme.gouv.qc.ca
Location: The joint meeting of the NAAIC and the Trifolium Conference will be held at the Hotel Plaza Quebec, located at 3031 Laurier Blvd, Quebec City (Sainte-Foy sector). Numerous restaurants and two major shopping centres are located within one mile of the hotel. Furthermore, city buses can take you in ten minutes to the historic old Quebec City. On-site services and facilities include an indoor swimming pool and spa, exercise room and free parking.
Hotel Reservations: NAAIC and TC rates are 125.00 CDN$ + taxes for single or double rooms. Please make your own arrangements directly with Hotel Plaza Quebec as soon as possible; rates are guaranteed until June 1, 2004. Accommodations might be difficult to find during this high tourist season. Specific information is provided on the hotel reservation form. For those who are coming early or staying an extra night, a limited number of rooms have been reserved for Saturday July 18 and Wednesday July 21.
Transportation
Flights
: Quebec City is located in the province of Quebec, 250 km northeast of Montreal and 800 km from New York City. The Jean Lesage International Airport in Quebec City is located nearby the Hotel Plaza Quebec (15-minute drive). There are direct flights from Montreal, Ottawa, and Toronto to Quebec City as well as from a few U.S. cities.
Short flights are available with all major airline partners from the Montreal-Dorval Airport to Quebec City. Buses are also available from the Montreal-Dorval Airport to the Montreal Bus Terminal (Berri), where buses depart for Quebec City every hour.
By Car
From the United States: Highways 89 and 5 in Vermont, Route 201 in Maine and Highways 30, 37, and 87 in New York State lead to the province of Quebec. A few miles from Montreal, take Highway 30 which leads to Highway 20 towards Quebec City.
From Ontario: Highways 401 (from Toronto) and 407 (from Ottawa) lead to the province of Quebec. Follow the directions to Montreal, and then to Quebec City (Highways 20 or 40). Highway 40 runs along the north shore of the St. Lawrence River from Montreal to Quebec City. Highway 20 runs on the south shore.
From the Maritimes: Highway 2 in New Brunswick and Route 185 in the province of Quebec lead to Highway 20 towards Quebec City.
Once you reach the greater Quebec City area, either from Highway 20 to the Pierre-Laporte bridge or from Highway 40 to the Duplessis Blvd, follow the signs "Boulevard Laurier" which lead directly to the Hotel Plaza Quebec.
Passport and Visa
Important notice to international visitors (including U.S. citizens), especially those flying into Canada: You may be required to provide a valid passport when entering Canada and upon returning to the U.S. or other countries. A visa may also be required for visitors from certain countries. Please check with your local Canadian embassy or consulate or consult the following Web site: http://www.cic.gc.ca/english/visit/visas.html
Weather and Clothing
Weather in Quebec City in mid-July is usually warm. Normal temperature (max. and min.) are 27°C and 15°C. (80o – 60oF)
Check weather forecasts for Quebec City at :
http://weatheroffice.ec.gc.ca/forecast/city_e.html?YQB
NAAIC AND TC ACTIVITIES AND TOURS
Monday Guest Tour, July 19: Sightseeing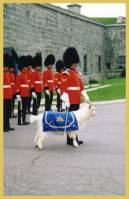 This 3-hr sightseeing tour will leave the Hotel Plaza Quebec at 8:30 am. The tour includes several points of interest in the old and modern Quebec City. You will see the Battlefields of the Plains of Abraham, the French and Latin Quarters, the Basilica, Place Royale, etc. You will stop at La Citadelle which is the most important fortification built in Canada under British rules. It was designed according to a defense system developed by a French military engineer. During the summer, the Royal 22nd Regiment performs the Changing of the Guard. Soldiers in scarlet uniforms are accompanied by the Regimental Band and by « Batisse », the mascot and regimental goat.
The cost of this tour includes transportation, a tour guide and the entry fees for La Citadelle.
Tuesday Guest Tour, July 20: Parliament Building
The participants will depart the Hotel Plaza Quebec at 10:00 a.m. for a visit of the Quebec Parliament Building built between 1877 and 1886. The architecture and interior decoration of the Parliament Building are very impressive. The chamber is filled with works of art and decorative items of exceptional beauty. Lunch will be served at Le Parlementaire restaurant of the National Assembly which enjoys an enviable reputation and is also worth a visit. After lunch, participants will go to the Capital Observatory located 750 feet (221 meters) above sea level and will be able to discover the magnificent view of the city and its surrounding area through vast windows open on the four horizons. The cost of this tour includes lunch and entry fees. Participants of this tour will be back at the Hotel by mid-afternoon and joint the NAAIC and TC BBQ at the Agriculture and Agri-Food Canada Chapais' experimental farm.
Tuesday Conference Agronomic Tour, July 20
The participants will depart the Hotel Plaza Quebec at 12:00 and travel to Le Ricaneux, an artisanal farm specialized in wine making from diverse small fruits (raspberry, strawberry, blackberry, cranberry, etc), where lunch will be served. Afterwards, we will travel to the Ythèbe Farm, a successful dairy farm for which a key-factor to do high performance is alfalfa. The next stop will be the Agriculture and Agri-Food Canada experimental site where alfalfa and clover breeding experiments will be presented. A final stop will be a visit of the Farm in the City. The SMA farm is a non-profit organisation accessible to persons with special social needs who want to reintegrate the work force. The SMA farm milks 130 cows, raises 120 replacement subjects and cultivates 600 acres, all that in Quebec City. The tour will end with a BBQ at the Agriculture and Agri-Food Canada Chapais' experimental farm overlooking the St. Lawrence River.
Wednesday Guest Tour, July 21: Château Frontenac
The participants will depart the Hotel Plaza Quebec at 9:30 for a 1-hr visit of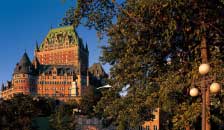 Le Château Frontenac. Standing high on a bluff overlooking the mighty St. Lawrence River, Le Château Frontenac is not merely a hotel located in the heart of Old Quebec - it is the heart of Old Quebec. For more than a century, Le Château Frontenac has been the true-life castle of many people's dreams. Countless personalities have graced Le Château Frontenac with their presence, including King George VI and Queen Elizabeth, Princess Grace of Monaco, Charles de Gaulle, Ronald Reagan, George W. Bush, François Mitterrand, Charles Lindberg and Alfred Hitchcock. Today, Le Château Frontenac stands even taller over Cap Diamant, ready as always to welcome friends from around the world to its elegant and pleasant surroundings.
Note: Participants will be back at the Hotel for the Awards Luncheon.